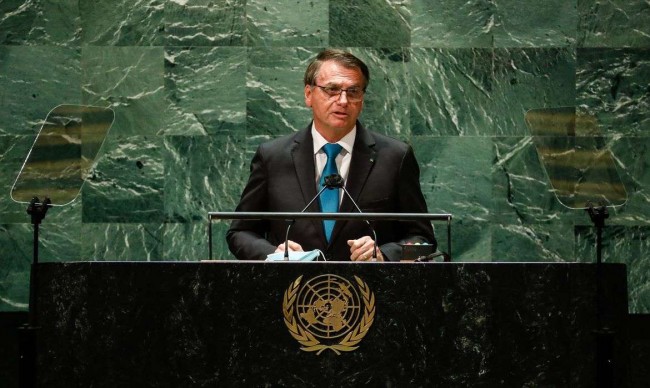 Speaking at United Nations headquarters, Brazilian president, Jair Messias Bolsonaro highlighted that Brazil has the moral high ground in environmental matters. Showing big numbers, he remarked "83% of our energy generation coming from renewable sources (...) our agribusiness feeds more than one billion people in the world using only 8% of the national territory". Yep, you've read right, Brazil is the biggest agriculture and livestock commodities producer using only 8% of it's own land! USA, for instance, uses around 20% of American soil to agribusiness, Europe uses between 45% to 60% – take that monsieur Emmanuel Macron.
It's impossible to deny that Bolsonaro and his government has promoted the opening of Brazil's economy:
"Brazil has the largest investment partnership program with the private sector in its history. Program that is already a reality and is in full execution. So far, US$ 100 billion in new investments have been contracted and US$ 23 billion in grants have been collected. In the infrastructure area, we auctioned, for the private sector, 34 airports and 29 port terminals. There are already more than $6 billion in private contracts for new railroads. We introduced the railway authorization system, which brings our model closer to the American one. In just a few days, we received 14 author requests of authorizations for new railroads with nearly US$15 billion of private investments. In our government, we promoted the return of the rail modal," said the Brazilian leader.
The option for railways instead of highways brings environmental concern to lower consumption of fossil fuels.
Brazil is an example in environmental matters.
The greatest challenge on environmental issues on 3rd world countries is not about forest preservation but sewage treatment. Ask 8 million inhabitants of Lagos or Dhaka; Delhi and it's eleven million residents. As far as this great amount of people still bathing and drinking water with fecal coliforms mixed with all kinds of waste: you can't speak to these humble people about trees and macaws; that's outrageous. You will never hear this from Greenpeace or WWF because it is much more appealing to save dolphins or film pandas that to get into to life threatened slums or shanty towns in Kinshasa or Cairo. Is way too dangerous and the locations where are placed those open sewers much; worst for film making.
Returning to Brazil, great progress has been made in the area of basic sanitation. The largest auction in the sector's history was held in April, with a concession to the private sector of water and sewage distribution services in Rio de Janeiro was auctioned for not less than U$ 4.3 billion, taken by AEGEA Co. and the Singapore Sovereign Wealth Fund.
As a active member of United Nations, Brazil has always participated in UN Peacekeeping Missions. From Suez to Congo, passing through Haiti and Lebanon. Our country has always welcomed refugees. On our border with neighboring Venezuela, the Federal Government's Operation Welcome has already received 400,000 Venezuelans displaced due to the serious political and economic crisis generated by the Bolivarian dictatorship. The future of Afghanistan also causes us deep concern. We shall grant humanitarian visas to Afghan Christians, women, children and judges. Jair Bolsonaro didn't forget to honor 09/11 heroes and make it crystal clear Brazilian's government opinion about the UN Sec. Council, "In these 20 years since the attacks against the United States of America, on September 11, 2001, I reiterate our repudiation of terrorism in all its forms. In 2022, we will again occupy a seat on the UN Security Council. I thank the 181 countries, out of a universe of 190 that trusted Brazil. Reflection of a serious and responsible foreign policy promoted by our Ministry of Foreign Affairs".
About the Chinese virus pandemic, his words were tough too: "We don't understand why many countries, along with much of the media, positioned themselves against early treatment. History and science will know how to hold all of them responsible".
Perhaps Bolsonaro will never be the nicest guy in the room but you will always be able to trust him. That's why he drags crowds wherever he goes. The big media will always hate on him at all times but the Brazilian people, the real ones, will keep on loving our president. But, hey, you've seen this story in the USA already…
Consultor político e autor de "Terrorismo Global" e "México pecado ao sul do Rio Grande" ambos pela Scortecci Editora.
Ler comentários e comentar